Golf is one of the most exciting outdoor games ever created. There's no doubt about it.
Aside from getting yourself pumped up in every excellent shot you make, you're likewise giving your body a healthy favor.
But do you know that playing golf has a lot more to offer aside from enjoyment?
Golf may not be too active or perspiring like other ball games, but it pretty much has a lot to provide to keep yourself physically and mentally fit.
They're too many to mention, but we'll only be listing down the top known health benefits.
Read on to learn more about them.
1) Helps burn calories
A couple of studies suggest that merely walking the nine-hole golf course is enough to help burn calories. Let's break them down to get more specific:
Carrying golf bags or traveling the golf course along with your pull-carts may help burn an average of more than 700 calories.
If you're too lazy enough to carry your bags, there's no problem. You can have your caddy to bring your equipment and simply walk through the course. By doing that, you're burning more than 600 calories on average.
Fine. You're tired so you'd want to save all your energy later on the game. Relax. You can still burn more than 400 calories by simply riding on your golf cart.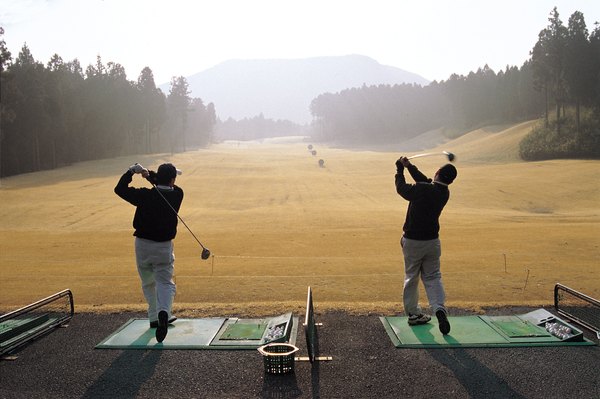 2) Reduces stress
Playing a few rounds of golf has been proven by specialists to release some all-natural and mood-enhancing brain chemicals called endorphins. They do not only keep you relaxed, but they also dramatically reduce stress.
3) Boosts brain power
Golf helps stimulate the circulation of blood in the brain and improves nerve cell connections. This is known to delay or prevent the chances of getting dementia.
It likewise exercises the capability of the brain to think critically and faster.
Moreover, it makes you think more creatively. As you go through the game, you're likely to use your wide imagination to make good in your next series of shots.
4) Promotes better sleep
In golf, you do a lot of physical activities. In addition to walking the golf courses, you also swing your clubs, lug your bags, and more. All these are often enough to make you fall asleep faster during the night.
This is essential, because it's when you're asleep that your bodies heal faster.
5) Revitalizes the heart
Playing golf is by itself already a form of exercise. This means that everything you do on the golf course is good enough to help get your adrenaline going.
Therefore, you can expect your heart to be naturally strengthened as it gets blood pumped up regularly.
Moreover, it helps you lose weight and cholesterol which is good to your heart.
6) Increases life expectancy
Like other sports, golf can help you maintain physically, mentally, and emotionally fit.
Staying healthy would therefore increase your chances of enjoying a quality life.
7) Improves social relations
There's more about teeing up or swinging your golf club in the course. Golf, as a competitive game, can likewise improve your ties with friends and other people playing around you.
By maintaining a healthy relationship with others, you'll become more inclined to live life to the fullest.